Army Corps of Engineers
Frustration with the COE and possible COE name dropping by the City of O'Fallon.
And a FOIA request we could not open????
---
---
Why down this Rabbit-hole?
During the pipeline leak, it was MoDNR, the EPA, Office of Pipeline Safety and Conoco all teamed against us for ten years. Ten Years MoDNR refused to follow their own policy for O'Day Creek when the petroleum contamination levels ten times the official MoDNR remediation levels.
---
So why the involvement with the COE during this debate about flooding and erosion?
At the planning and Zoning board meetings, the words "Corps of Engineers" kept being talked about in reference to retention basins and ponds, that like the natural trees, kept disappearing from plans and blue prints for both the Park and development.
This is still a point of confusion, because the Corps of Engineers kept insisting and still do to this day, that they have/had no responsibility, obligations or duties per these to major land disturbances sitting above the O'Day Creek.
However as the name dropping continued, so did our involvement with the COE.
After the dust had settled, the COE stressed these two points: Not our Job. And Get a lawyer.
(Thanks for the advice)
---
Return So I filed a complaint with the COE Inspector General and our neighbor Roger filed a Freedom of Information Act request with the COE.

---
The odd FOIA request response

Conspiracy...? Probably not, but then why the silly stuff that makes you twist your head to the side and say "What?"
Common sense indicates simple incompetence by the COE staff? Or "We don't really care what serfs think."
Roger requested information and the COE, as by law responded, but.....
The FOIA response (encrypted) was sent out about five times, however each time the time sensitive password had expired when Roger attempted to open the FOIA  request.
We were never able to open the documents sent by the Army COE. "Never."
Perhaps a "I don't care if you ever open this by the COE" attitude?
Because the password was always expired when we attempted to open the FOIA.
The Army emails were not difficult to follow, as shown by a sample below:
-----Original Message-----
Sent: Mon, Jan 24, 2022 3:17 pm
Subject: Fw: (name removed) has dropped off files for you

Hello Bruce
Kim asked me to check correspondence with Corps of Engineers and file a sunshine request.  I checked my emails and found several that requested information.  The response from (removed) did not help as I was not able to open up her files.  
Thank you,Roger

From: NoReplyTo@mail.mil <NoReplyTo@mail.mil>
Sent: Tuesday, September 21, 2021 12:35 AM

Subject: [DoD SAFE] (name removed) has dropped off files for you This is an automated message sent to you by the DoD SAFE service.


This is a reminder about a drop-off sent to you, that no one has picked up.
The drop-off will expire in 24 hours after which it will be automatically deleted.

(name removed) civ@mail.mil> has dropped off 6 files for you.

IF YOU TRUST THE SENDER and are expecting to receive a file from them, you may choose to retrieve the drop-off by clicking the following link (or copying and pasting it into your web browser):

https://safe.apps.mil/pickup.php?claimID=cijqZWFD7d9Xaj4G&recipCode=CwtZ3c

You will be required to enter the claim passcode, which is:
teG7uC4DnpZihRtf

This drop-off is encrypted. To download any files you must have the correct passphrase, which you can only get from the sender.

You have 24 hours to retrieve the drop-off; after that the link above will expire.

The sender has left you a note:

FOIA records.

Full information about the drop-off:
Claim ID:cijqZWFD7d9Xaj4GRecipient Code:CwtZ3cClaim Passcode:teG7uC4DnpZihRtfDate of Drop-off:2021-09-15 00:13:31 UTC
— Sender —Name:(name removed) Organization:USARMYEmail Addres
Name:14 Feb 2020 Certification.pdfSize:289.0 KBSHA-256 Checksum:5DB638499387188B1EFDB0D70F9AAD2F0CD098E604C28886BE4AFBB77ABE1AACContent Type:application/pdf  Name:Draft P2468 THF DD draft permit and special conditions - Copy_Redacted.pdfSize:78.6 KBSHA-256 Checksum:42BF8DE31E07EB264FB99A6F8D3615FCCD6D4DDCA5CCD36533C7EC52E0912920Content Type:application/pdf  Name:Final Permit Cover Letter.pdfSize:185.8 KBSHA-256 Checksum:C79C7CAF9E3964038E39954DD2E276E08476E375DE43E769B15442082236F2B2Content Type:application/pdf  Name:MVS-2004-9260 Draft Permit Coverletter.pdfSize:316.8 KBSHA-256 Checksum:43F21EBC0708319C73774798946C7659E6EA7F9BA030F24E95FDE5B713EE9EB1Content Type:application/pdf  Name:P-2468 MVS-2004-9260 Final Permit.pdfSize:463.3 KBSHA-256 Checksum:A5A3F01E9D3AF8109A8F3F1491F49FA3B0E06DA38FDD6F5A435DEDFD82940EAEContent Type:application/pdf  Name:Permit Conditions.pdfSize:157.2 KBSHA-256 Checksum:9FE0C59CD30BFF0B818328447A66E7856BC2BD5F8A94ACBF6D3E78002F5E010EContent Type:application/pdf
---
---
My letter to the Army Inspector General
Well first, I have lost all faith in the lawyers they call Inspector General. As my page "Failure of the EPA IG" details, perhaps corruption, or incompetence or "Go away serfs frame of mind."
So I actually did not expect any results when I filed the complaint, unless as requested, a IG inspector visit the two creeks.  (No deal on that request)
And.....
Damn?
Interesting conversation with MoDNR engineer who stated the damn across the Spring Branch was not a damn, and my response was that "If beavers had blocked the creek, it wood be be called a damn, but if a contractor builds it, then is a "controlled water feature," not a damn?"  There was no reply because I was a "Stupid serf as irrelevant questions"
---
My complaint to the IG
Subject: Corruption concern by local Corps of Engineers representatives.


To whom it may concern

I am requesting an investigation into the permits given by the Army Corps of Engineers concerning the stormwater runoff for a new housing development under construction, uphill and upstream of our horse farm.

I have to write this letter with heavy heart and disappointment because I had believed the Corps of Engineers to be the most professional arm of the Government.

However, I believe my family is the victim of either incompetence or corruption. Perhaps both. Please help. I am requesting help before I am forced to go to the media because of fish kills, livestock deaths, or even a member of my family injured from a catastrophic dam break.

Our stables: are Stonebridge Stables, in St. Charles County, Missouri, and the new development is the Streets of Caledonia, by Fisher Holmes-both can be found on the internet.Google Maps will show you the bare land of the Streets of Caledonia but does not indicate the entire area is a slope, and we live downhill and downstream.

I am requesting an investigator fly to St. Louis and inspect the Streets of Caledonia stormwater management structure in person.

Why an out-of-state investigator?About 20 years ago, we had a pipeline leak onto our property, and all of our complaints followed the same process. We complained to the EPA and Office of Pipeline Safety. The out-of-state offices would call the local St. Louis or St. Charles representatives, and the local people gave assurances there was nothing wrong with the pipeline leak. (Eventually, 40 truck-loads of petroleum product was removed from our property & the O'Day Creek) That is was with the local EPA and MODNR claiming there was no contamination. Inept or corruption?

I fully expect the same process concerning my complaint to the Corps of Engineers because that is the logical and efficient process.  I am anticipating the Corps of Engineers to contact the local representative to address my complaint. And, of course, the local representatives will give glowing assurances that nothing is wrong.Consequently, I am requesting another viewpoint, perhaps an un-tarnished opinion.

Furthermore, I write this letter only after my family's recent contact with the local Corps of Engineer representative in St. Charles County, Missouri.

Per our copy of the development plan obtained at the City of O'Fallon planning and zoning meeting, the Corps of Engineers, knowing full well that the entire area is a slope, had demanded SIX one-acre retention ponds constructed at the lower levels of the hill. 

Last week, after we complained about the flooding on our property, the Corps of Engineer representative called and explained, none too politely, that we were mistaken, the plans were a mistake, and that we "should not be in possession of those plans." 
Background:O'Fallon Missouri,The Army Corps of Engineers gave the engineering firm and the development company the permits to strip the 300-acre slope bare of vegetation, pave and cement for 600 new homes known as "Streets of Caledonia." The permits were given with full knowledge that the cleared land could ONLY drain through our horse pastures.

Detention ponds vs Dry basins
This muddy water is being purged onto our property via the stream we know as the "Spring Branch," then into O'Day Creek, the main feeder stream into Busch Wildlife Area, and Dardenne Creek, which runs through St. Charles County.

A look on google maps shows many nearby developments and sub-divisions. And next to all of these developments are water detention ponds to collect the detritus of human communities: petroleum products and pesticides, fertilizers, and silt.

However, "The Streets of Caledonia" uses an "approved" extra-large dry basin apparently used only to slow the stormwater runoff, with no intention or design of capturing any pollutants. The two 3' high pipes at the bottom of the basin purge water like a broken flush toilet.
Why is this contractor given special consideration when all around us are retention ponds to collect pollutants?

At the very least, if we, the tax-payer, were to be abused, there should have been some consideration that the stream crosses through our pastures and flows into one of the few wildlife conservation areas in the St. Louis area. (Disturbing silt-laden stormwater photos and videos are available upon request. As well as the disturbing erosion caused to the Spring Branch creek.)

OF GREAT CONCERN is the construction of the "dry basin." It has four SIX foot tall floodwater inflow pipes and two, three-foot outflow pipes.After only a small rain, our video captured footage of the dam was almost overtopped. And our videos were taken before the area has been blacktopped and houses constructed (impervious surfaces)Furthermore, this dry basin dam is constructed high above our property. When the water (not if) the water breaks through this dam, we fear our livestock will be carried away in a great flood.

Per the USDA and common sense, this structure has to be able to retain water from a 25 and a 100-year storm event. Essentially the Corps of Engineers, with their stamp of approval, has approved a death sentence to anyone downstream when this levy breaks.
This flood would be coming onto our property in a raging foul torrent, reminiscent of the Johnson Shut-Ins disaster. 

I have another concern; although I will admit I may not have all the facts or understanding, however, it is worrisome. The City of St. Charles has funded a service road along Highway 64, which covers the property highway frontage.
In the City of O'Fallon plans, the concept is a connector road from Highway DD to Highway N.
I apologize for bringing up local roads and any confusion that comes with 'local problems.' Originally, there was a section of the property reserved by the original owner for a high-tech or commercial corridor along the highway and hence the requirement for the new service road. Then the remaining property is to be approximately 600 high-density homes.Fairly standard practice.

My assumption, which is not outside the norm, was the commercial property corridor would have its own and separate retention ponds.
However, to our dismay, last week, we drove along the service road -still under construction and observed pipes buried under the roadway to drain the commercial property directly to the massive dry basin and as mentioned, this will directly drain any and all pollutants directly onto our horse farm and into Bush Wildlife Area.

Why does this property adjoining the highway not have a retention pond? Just half a mile away at a movie theater is the largest retention I have ever seen. Yet "Streets of Caledonia" is allowed to not catch any fertilizers, pesticides or petroleum products?Another concern, parts of Highway 64 are draining to these buried pipes under the new service road. 
Did the USDA TR-55 runoff measurement add the collected waters of the interstate/highway drainage in their computations? That answer would be a resounding 'no' because that would create the need for even larger basins. (Perhaps even the original six detention ponds the Corps demanded to the contractor)

I am sending this directly to the Inspector General because there are too many questionable facts about this project. 
Personally, I believe something nefarious has occurred to make the detention ponds disappear -because that would save the land developer money.

We live downstream and are frankly terrified. Also, it is evident that my mother, who operates Stonebridge Stables at the age of 82, is being verbally and monetarily abused by both the land developer and the City of O'Fallon.

The Corps has the power and authority to correct this situation. You have the power to protect Dardenne Creek and Busch Wildlife Area from a massive infusion of fertilizer. And you have the power to save the lives of my family when this so-called dry-basin gives way.

Please send an independent observer to review the property and watershed drainage.
Please review the spider web of buried 6' tall pipes that will be purging onto our property.
Please demand a new TR-55 study based upon the drainage that is now changed due to the new road and directed water flow.
Please review why the commercial property would not have retention ponds and instead use our horse pastures to dump their collected wastes.
Videos & photos of this disaster will soon be available for review at our website.

Please review the concept of Actus reus, as the Corps of Engineers, to their enteral shame, is approving and defending this disaster and varied components.

WE did not issue a permit to strip the slope and change the watershed. And we did not change the plans of six retention ponds as requested by the Corps of Engineers.We simply live next door and downstream.

Thank you for any consideration, 
Bruce Ryba
Stonebridge Stables.
---
In the end, the Local COE representatives convinced me that NONE of my complaints was their responsibility & I eventually sent an email withdrawing my complaint.
That did not change the fact that all my statements were 100% true, just that the Army COE did not care. (Flooding, silt and turbidity were not in their purview of their concerns?)
still adding! Still building!
---
---
Return to the Assaulted by the City of O'Fallon Page

Return Home from the Army Corps of Engineers Page

---
---
---
---
Do you need the perfect gift?
For pet lovers around the globe, "It's a Matter of Luck" is a collection of heart warming stories of horse rescues from the slaughterhouse. 
Available on Amazon: 
---
---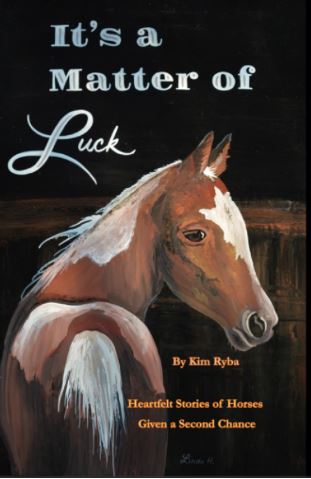 It's a Matter of Luck: Inspirational, Heartfelt Stories of Horses Given a Second Chance.
by Kim Ryba & Lina T. Lindgren
Warning: This book may cause your eyes to water in a good way. (speaking from experience after reading it)
Please give Kim and Lina a heartfelt review on Amazon!
---
---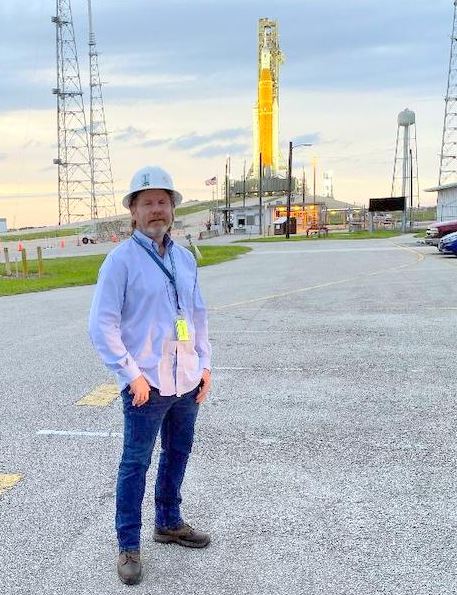 Author Bruce Ryba at Kennedy Space Center Launch Pad 39B & Artemis 1. "We are going to the Moon!"
Author's discussion (that's me) on You Tube of a book review on Amazon
For the video versions of information, please check out my YouTube Channel (Turkeys, Flintknapping, dive stories etc.)
---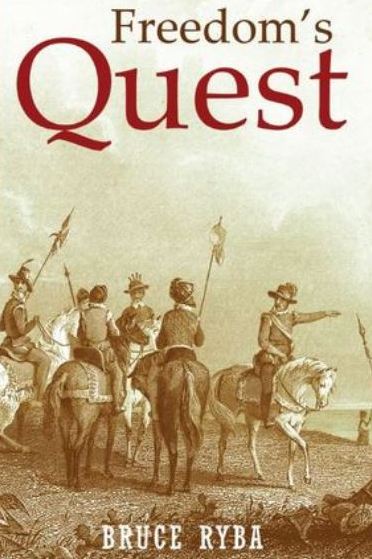 My fictional series/stories on Florida history:
Freedoms Quest (book one)
Struggle for the northern frontier and other lost tales of old Florida. 
Available on Amazon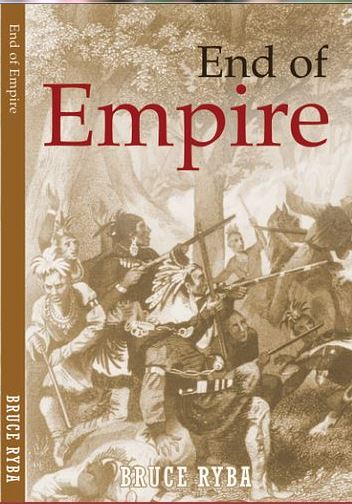 Book Two: Available on Amazon November 2023
---