Rivers and Creeks I do not like




"Never going back"



Rivers and streams, lakes or springs that I most likely will not return to for various reasons. Sure I am picky however my criteria is somewhat simple:
Relatively clean waters. Not too short a paddle and not two many houses along the waterway.
Easy.....?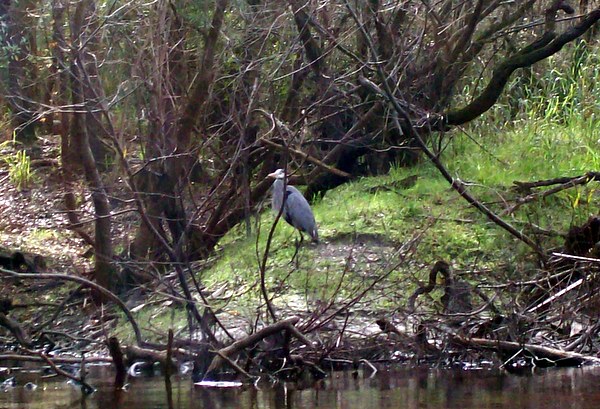 Resident of Turkey Creek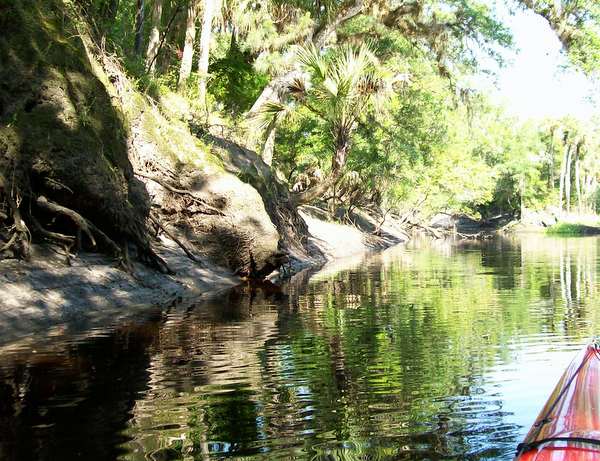 Eau Gallie River: Finally no houses!

Rivers/Creeks I don't like.....
The Indian River feeder streams that I have paddled and hope not to return......
These creeks are mostly in the Melbourne and Palm Bay areas southwest of the space center.
Crane Creek, Horse Creek and the Eau Gallie River. They are "OK" if short paddles. I think my dislike of houses along the streams left me a little jaded.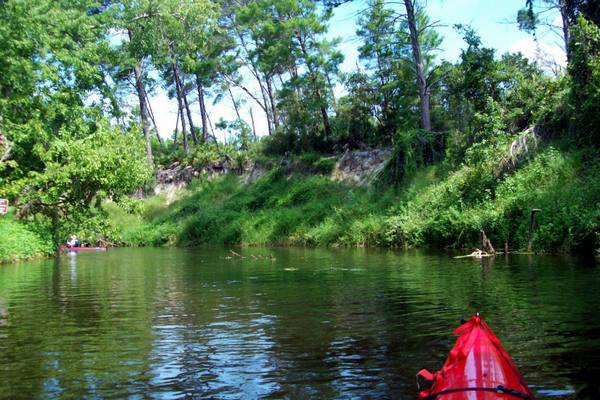 Turkey Creek has some pretty areas

Moving south on the West Bank of the Indian River is Turkey Creek. A slightly longer paddle through a nature preserve-at least the houses are mostly out of sight.
So initially I was pretty happy with Turkey Creek however two things happened to alter my opinion.
First only an hour or so upstream from the park we launched from we ran into a dam.
Peering over the top of the dam, the pretty stream turned not so pretty. The creek above the dam looked like a retention pond surrounded by houses. A blatant reminder that Turkey Creek winds through Palm Bay-Brevard County's most populous city.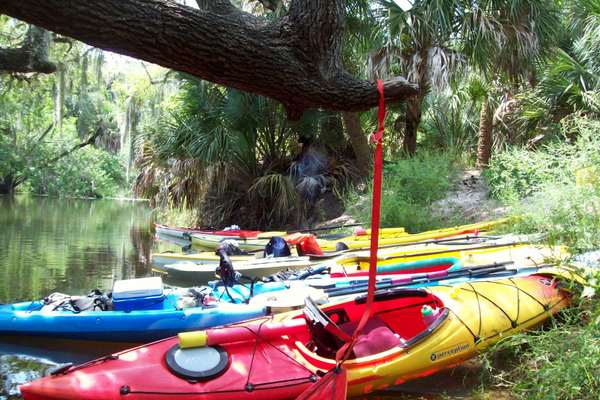 The Meet-Up group. Taking lunch just short of the dam

Modern America -you cannot really escape it, so my first complaint really lies in the fact that the paddle was not long enough before having to turn around. And of course that criteria is very subjective per paddlers taste. (For most people, an hour paddle up and an hour paddle back is perfect)
Before I get to my final complaint of Turkey creek I would point out that the creek is very pretty with boardwalk in the nature preserve area.
At the board walk people toss pellets or something and hundreds of turtles appear for free food. I was surprised to see a pale terrapin pop to the surface for junk food.
And I read in the local paper that a colony of invasive turtles (red ear or painted sliders-I forget which, but released pets) from Missouri had taken up residence in Turkey Creek.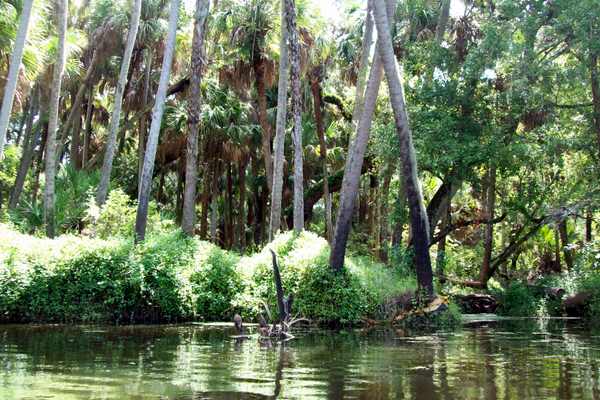 Turkey Creek. Just south of the Dam, the water looked "dirty"-and I don't mean just turbid.

So all in all a nice paddle. My complaint then? Why it is Turkey Creek on my dislike list? 
Once we launched our kayaks: in less than an hour I had a green stripe attached to the white part of my boat (grimace) -So how clean is the water of turkey creek, that it marred my boat so fast? 
Nowhere else in Florida had water done that to my boat. Petroleum? Sewage? I honestly do not know however I was a little dismayed.
Do not really want to go back to Turkey Creek even though there are some pretty spots and Missouri turtles.

---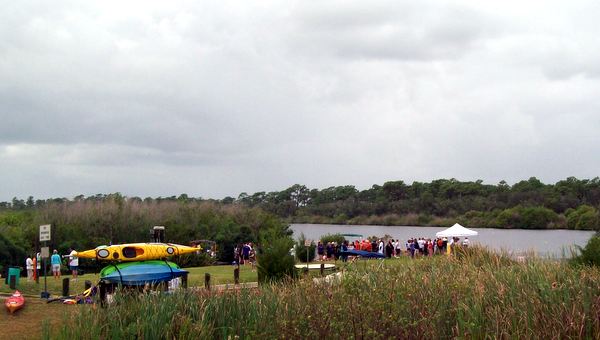 A kayak race at Sebastian River

So continuing south (south of Palm Bay) is the San Sebastian River. The Sebastian River is bigger and cleaner than Turkey Creek but similar in appearance.

The mouth of the Sebastián River is well known for the tarpon fishing where the fresh and brackish waters mingle.
And an a unique feature about the Sebastian River: it is split into two branches.
The north and south forks. The south fork meanders similar to Turkey Creek, however the north fork quickly turns into a massive drainage canal that extends nearly to Blue Cypress Lake.
My assumption is this canal drains the cattle and farm lands of Felsmere. No information on this North Prong Sebastian River canal however the freshwater discharge from the massive canals on the southern end of the Indian River Lagoon causes massive environmental problems for the lagoon in the Port St. Lucie area.

Paddlers enjoying a little canoe trip on the Sebastian River

The Sebastian River is an ok paddle, just that for the driving distance, the river is two short and two many houses have been built along it.

---
---
And the list goes on.....
**The two lakes at Pine Island-just south of the space center. Brand new primitive boat launch- however the lakes are just small. -Even before paddling 340 miles, I considered these lakes  small.

**The St. Johns River near Lake Poinsett :
Fishing is good, the paddle is almost in my back yard however the air boat traffic is scary as ****

Many of these folks do not slow down for small water craft. If they are trying to intimate me--it worked.
(Note: the areas of the St. Johns river, north of this Poinsett bottle neck---"I like" and will do a page)

---
---
Will keep adding my dislikes as I recall them...

---
---


Return Home from Rivers I do not like page

---
---
Do you need the perfect gift?
For pet lovers around the globe, "It's a Matter of Luck" is a collection of heart warming stories of horse rescues from the slaughterhouse. 
Available on Amazon: 
---
---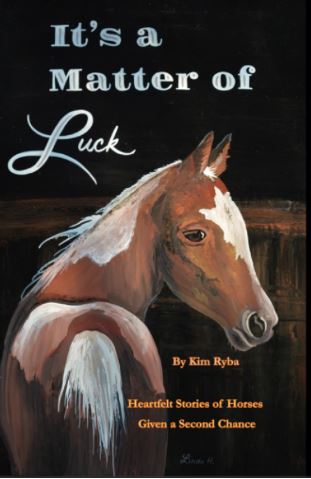 It's a Matter of Luck: Inspirational, Heartfelt Stories of Horses Given a Second Chance.
by Kim Ryba & Lina T. Lindgren
Warning: This book may cause your eyes to water in a good way. (speaking from experience after reading it)
Please give Kim and Lina a heartfelt review on Amazon!
---
---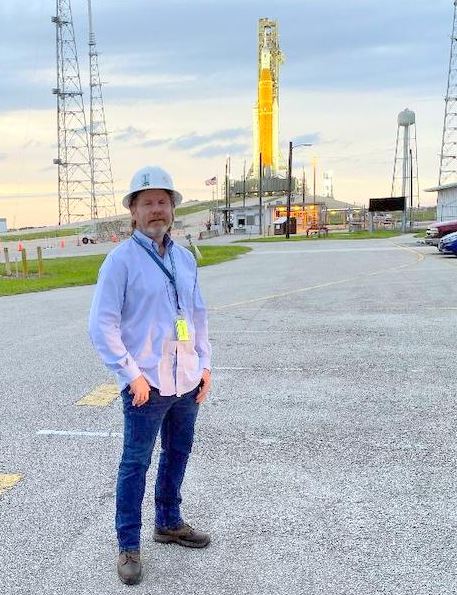 Author Bruce Ryba at Kennedy Space Center Launch Pad 39B & Artemis 1. "We are going to the Moon!"
Author's discussion (that's me) on You Tube of a book review on Amazon
For the video versions of information, please check out my YouTube Channel (Turkeys, Flintknapping, dive stories etc.)
---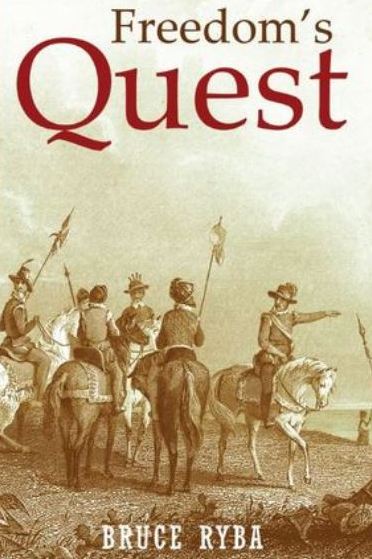 My fictional series/stories on Florida history:
Freedoms Quest (book one)
Struggle for the northern frontier and other lost tales of old Florida. 
Available on Amazon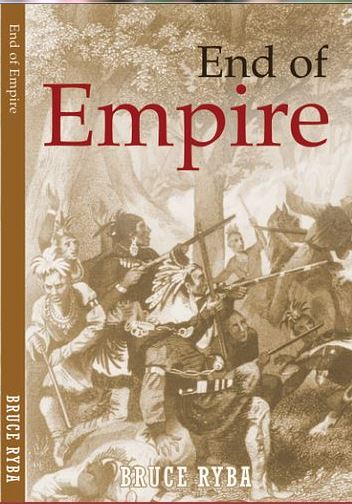 Book Two: Available on Amazon November 2023
---