Ichetucknee River and Springs
or just "WOW"


Ichetucknee River and Springs. After paddling most of the rivers and streams of Florida, the Ichetucknee in my opinion is the prettiest river in the state.
Located a short 2.5 hour drive north of Kennedy Space Center the stunning beauty & pristine waters of the Ichetucknee River draws a lot of visitors: From kayakers, tubing enthusiasts & scuba divers to awed participants of various religious ceremonies.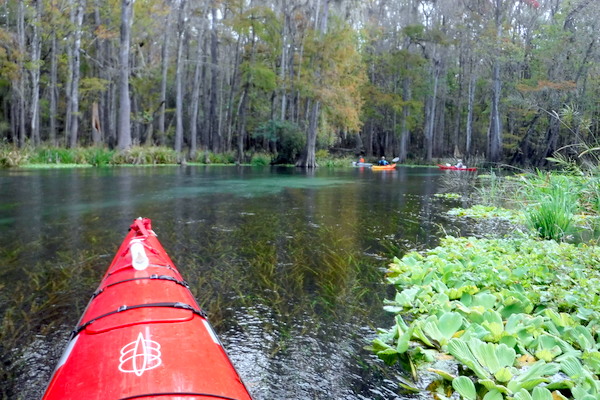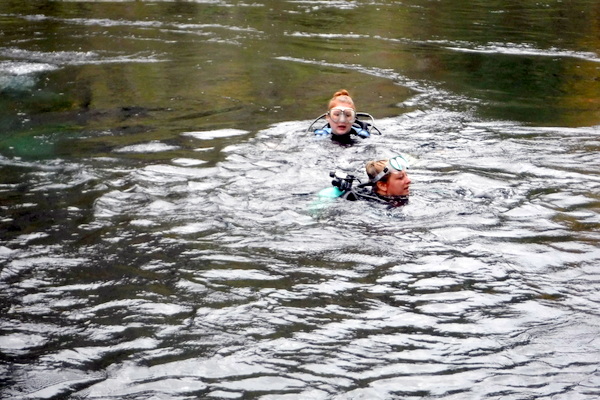 Scuba! (with wet suits)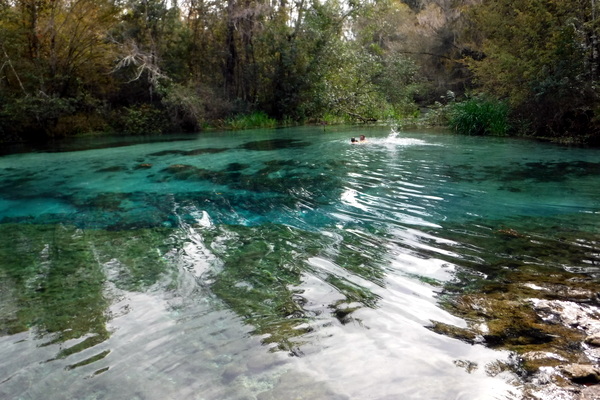 Paddling up the Ichetucknee I was immediately reminded of the Silver River near Ocala and the Wekiva River near Sanford Florida. Both rivers are spring fed with clear cold water. Differences upon fist glance: The Silver River appears to be a little larger and deeper-if shorter and the Wekiva and surrounding forest a smaller mirror image of the Ichetucknee.
All three rivers are plagued by tourists (myself included) in awe of Florida's unheralded beauty. The Silver River of course has it's famous monkeys and the Wekiva the infamous canoe take out with all the sloshed/inebriated party-goers. (omitting the name of the landing for legal reasons)
The Ichetucknee has by far the most cypress trees and of course I found myself searching for the illusive Ivory Billed Woodpecker. (knowing it was not along the river however there was just enough wildness to the river to think "Well maybe?"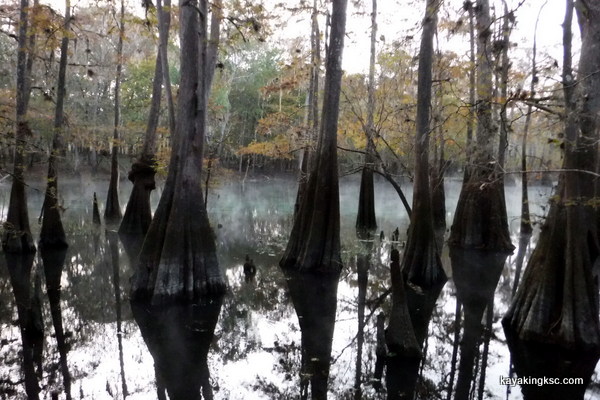 Dawn on the Ichetucknee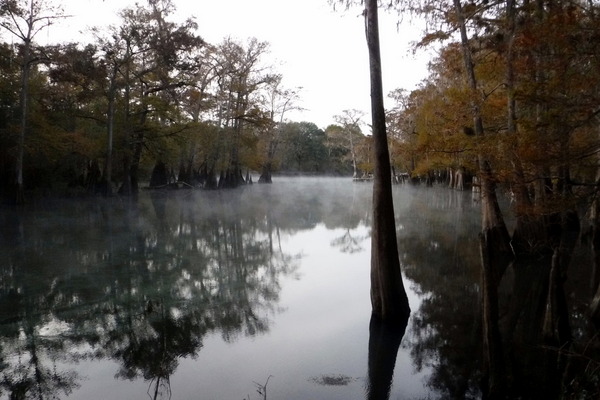 Dawn on the Ichetucknee

---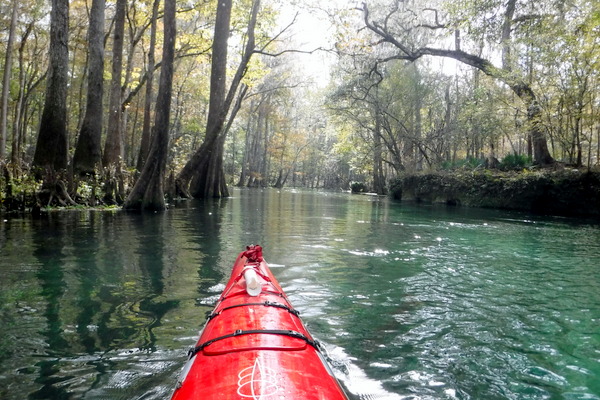 South entrance from the Santa Fe River

Entry into the Ichetucknee River State Park paddling from the south (Santa Fe River)
Note: it was extremely difficult to paddle under the two bridges at the south end of the park because the two bridges work in tandem to force all the current into a single not straight powerful channel. (There were places under the bridge where paddling as hard as I possibly could, I was making about an "inch" per stroke going upstream.)
And if you do not make that section of water and give up you will be forced to back into a curving narrow tunnel like railroad bridge.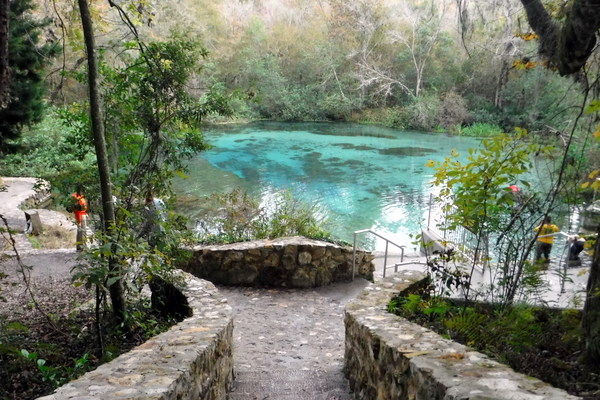 For the less powerful paddlers, we loaded the boats and drove into the park to launch, It was a nice paddle upstream and a quick paddle down stream to the two official take outs

---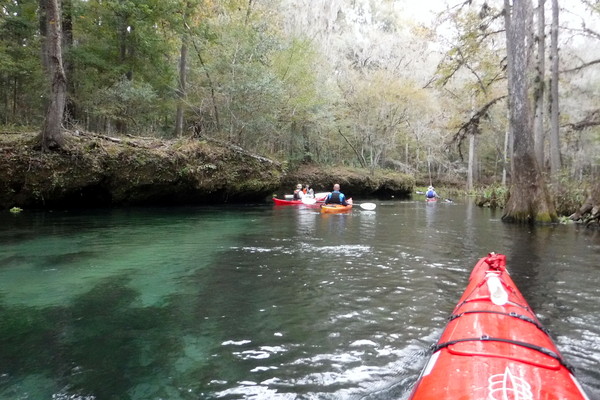 ---
After a quiet morning of paddling, the river to ourselves (was a cool day) the hordes of paddling primates began to disperse on the river like spilled oil.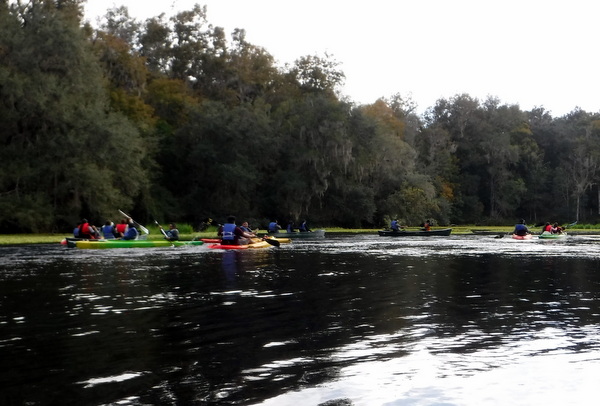 A Boom Box??? Really??
The tourists arrive! (I keep in mind that every culture has plenty of idiots)

When I say "In Awe of the majestic beauty" I have to wince at those who chose to paddle their rental canoes down river with their boom boxes chanting the chosen music per culture.
There were others of course taken aback at the natural jewels of water and emerald trees.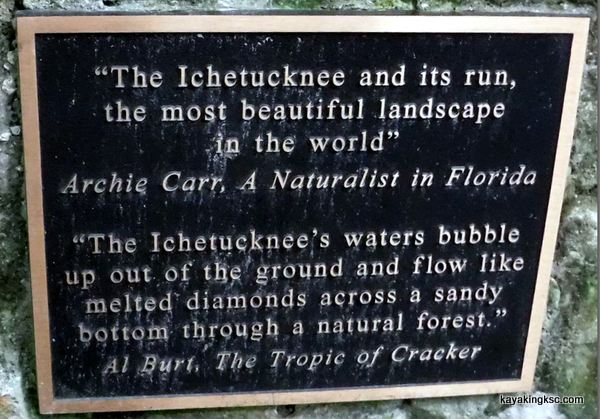 Sign at Spring head

---
Springs under threat Florida Springs Institute


---
Return HOME from the Ichetucknee River page