Pine Island & Sam's Creek
Indian River Lagoon
Pine Island on the east side of the Indian River just south of Kennedy Space Center always perks my imagination.

Paddling north from Manatee Cove Park for a couple of miles towards the "island"
Pine Island is actually not an island but a stubby peninsula that juts into the Indian River  -But a significant land mark on the otherwise unremarkable palm and pine tree lined coast of Merritt Island.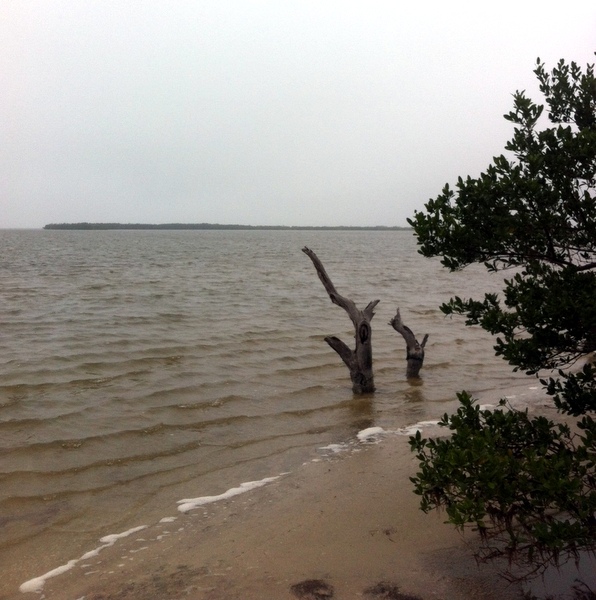 Pine Island in the distance. Easy paddle for the QCC, but was a battle in my fishing kayak. Winds....Just never know what the wind is going to do on the lagoons.

---
Like Turtle mound north of the Space Center; Pine Island must have been a navigation point for Native Americans, Spanish explorers and early pioneers who plied the river for sustenance or trade, even revenge.
How many countless generations in the past had paddled their dugout canoes past the landmark? There would have been overnight stays by Spanish and English explorers or the Ais Indians of the space coast.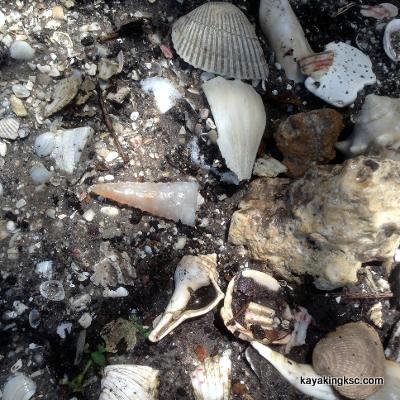 Pine Island, feral hogs rooting along the shoreline exposed this Ais Indian arrowpoint. And yet another reason to like bacon.

---
I always stop a Pine Island when paddling-at the very least to just contemplate the shrouded shoreline and lost histories of explorers. Did the naturalist William Bartram stop here to record wildlife of east Florida?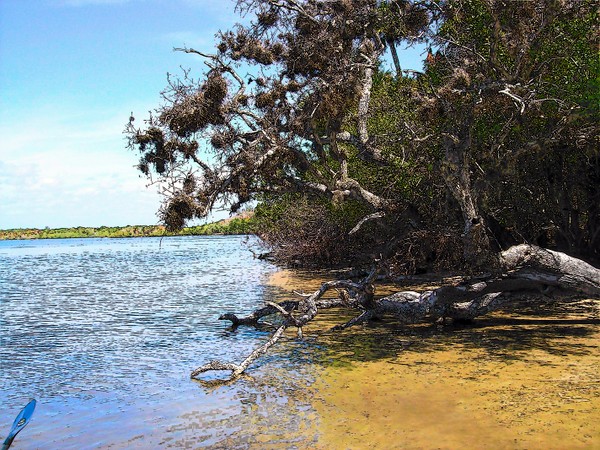 The shallows edges with a firm sandy bottom makes a perfect leg stretching spot when paddling 25 mile practice runs for the MR340 River Race.

---
Pine island:
 Just south & east of Pine Island is Sam's House-the oldest surviving structure in Brevard County, the pine house having survived hurricane and wood eating insects.
Sam's House was constructed next to an Ais Indian mound-both peoples taking advantage of acorn and hickory nuts on the high ground inland of Sam's Creek (also called Rinker Canal) and taking advantage of the plentiful waterfowl of Sam's Creek. (How many ducks can you eat before your taste-buds rebel?)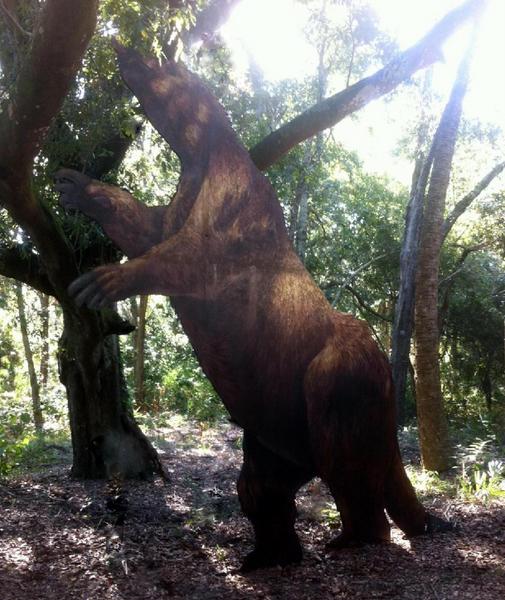 Giant sloth at Pine Island/Sam's House

Pine Island, where the remains of a Columbian Mammoth were discovered in the dredge spoil of Rinker Canal.
Nearly a century has passed since other Mammoth remains have been discovered Brevard County-all the more astonishing considering the staggering amount of development and dredging that could have produced other mammoth remains.
Of mild interest is both remains were found in creeks: Sam's Creek at Pine island and Sykes Creek on Merritt Island. This would have been at least 5000 years BEFORE the Indian River existed and the fresh water stream would have attracted both game (The giant sloth in the photo above) and alpha predators -humans.

Only three miles inland of Pine Island on Kennedy Space Center property were discovered the bones of a ten-thousand year old Llama. (Discovered during the construction of the KSC solar farm.)
These ancient Florida Residents are long gone but their shadows and bones remain to haunt the palmetto and pine landscape. (and my imagination of course)

Pine Island after a controlled burn by the park service.
The view is 100 steps inland from the river.

---
As mentioned I always stop at Pine Island when paddling and let my imagination run amok before returning to the kayak and completing however many miles were remaining I had set for myself on that day.


---
Sam's Creek....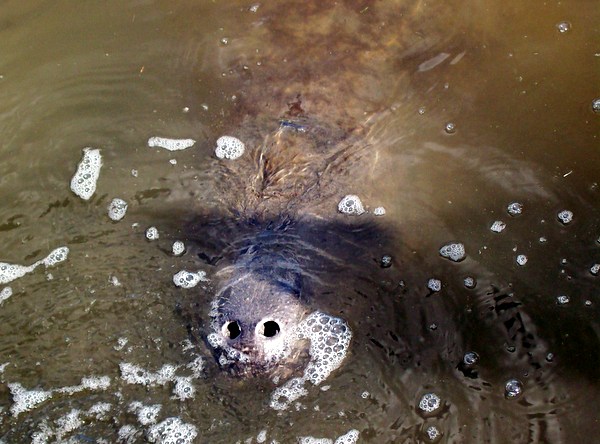 Something.....no a lot of somethings lounge under the dark water of Sam's Creek!

Note of warning, if paddling into Sam's Creek: At the northern end of the creek there are always a lot of manatees. Beware paddling over a one of these sleeping giants. (Safety on the IRL)
Both you and the gentle giant will be terrified –a small canoe or kayak can easily be tipped over as the big mammal or mammals attempts to flee to the safety of deeper waters.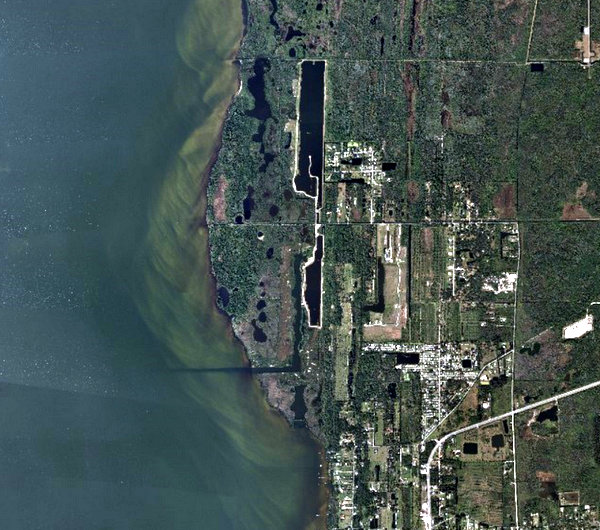 Aerial photo of Pine Island on the south boundary of Kennedy Space Center:
Center is Sam's Creek/Rinker Canal (mammoth remains)
Top center are the two fresh water/brackish Pine Island lakes with improved canoe launch (open to the public)
Top is also the Pine Island Canal that drains north Merritt Island and is a popular Redfish/snook location
Bottom: you can just make out "Sams House" the oldest wood home in Brevard County & Ais Indian mound.
Left: you can see the remains of the ancient shore of the Ice age Paleo Creek & in the original photo before I cropped it, you could see the Ice age channel of Sam's creek (reason for the Mammoth remains.)

---
Return Home from Pine Island page

Kayakingksc.com